Diving Rates and Packages
Schedule Your Diving Today! Give us a call or send an email for scheduling
To call: International dialing code +
(305) 514 9704 or (767) 448 2188 or our mobile: (767) 235 2188
email: dive@divedominica.com
Daily Dive rates & Packages
1 Day of 2 tank diving
2-Tank Morning Boat Dive without gear $108.50
2-Tank Morning Boat Dive Full gear inclusive (BC, Reg, Shortie wet suit) $146.00
If you dive with Dive Dominica for 3 days or more you can enjoy a package discount.
Dive Packages
3 Day Package:  6 Dives $301.30
4 Day Package: 8 Dives $385.60
5 Day Package: 10 Dives $458.90
Any additional days of 2-Tank Diving after a 5-day dive package $94.40. Other services such as Night dives & Afternoon dives are also available. Additional services require minimums. For more information on our dive packages and to inquire about availability email: dive@divedominica.com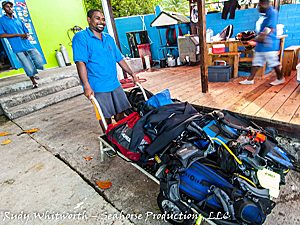 The check in time is 8:15 AM for morning for two-tank boat dives.
We ask our divers to be on board by 8:30.
If we have your dive equipment, or you are renting our gear, our staff will have delivered it to the boat for you. Once on board we do ask that you double check that all is in order and that all of your gear accounted for.  If you are Nitrox certified and plan to dive with Nitrox please let us know when you register so we can be sure to set up a Nitrox tank for you. You will still need to analyze the tanks once on board.
Once everyone is settled, the boat captain will give a boat safety briefing, then off we go on the scenic motor for the mornings first dive. The dive sites to be visited any given day will be determined by a number of factors including guest requests, weather, availability and dive master/boat captain preference.
Once at dive site the dive master will give a thorough briefing, after which divers are free to enter the water. Dives last for approximately one hour, shorter for those who consume air faster.  At many of the sites visited, the mooring ball is within 15' - 25" feet of water, enabling the safety stop to be "built in."  Divers need not follow the dive guides in a close group, but we do ask that you keep the dive master within sight, which ensure you are also within his/her sight.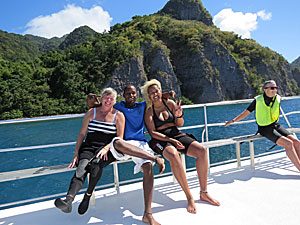 At the end of the dive we'll head toward the next dive site, then change your gear over to a second tank while you relax for the surface interval. Depending on the sites visited and time spent at each, we are generally back at the dive dock no later than 1:00 pm.  We'll take care of getting your gear rinse and stored so it is ready for you for your next dive day.
Afternoon boat dives can be arranged with advanced notice and minimums.  A minimum of 8 divers is required for a one-tank afternoon dive; a minimum of 6 divers for an afternoon two-tank dive.  The dives depart at 2:00 pm.