Dominica: Whale Watching Capital of the Caribbean.
No vacation in Dominica is complete until you have spent at least one afternoon whale watching.
Dive Dominica typically offers whale watching trips 1-2 times per month. Our upcoming tour dates are Saturday August 12, Sunday October 22 & November 5, Saturday November 18, Sunday November 26, Saturday December 9 & December 23 2023. Early sign-ups are available for any of these upcoming tours. The boats depart at 2:00 pm. (Check-in time is 1:30 pm).
The Trips is $69.00 per person, including complimentary fruit juices and rum punch served on the return journey. The tour duration is 3 to 3 1/2 hours long.
Looking for a more intimate experience?
Dive Dominica also offers a private whale and dolphin safari for up to 6 people for $687.70 total. To book, call: International dialing code +(305) 514 9704 or (767) 448 2188 or our mobile: (767) 235 2188 (WhatsApp inclusive).
Email:dive@divedominica.com
Dominica's sheer underwater drop-offs create deep sheltered bays along its western coastline. These deep coastal waters are the feeding grounds for at least six different species of cetaceans seen on a regular basis and an additional 16 on an occasional basis. All in all, 22 of the 33 species known in the Caribbean have been seen in Dominican waters.
The most commonly sighted cetaceans include short-fin pilot whales, false killer whales, melon head whales, pygmy sperm whales, and humpback whales.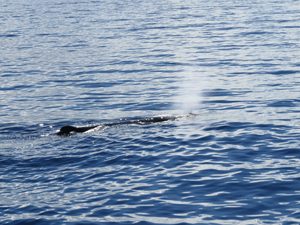 But our most impressive ocean giant is the Sperm Whale. Dominica is the only country in the world the Sperm Whales can be sighted year-round, although sightings are most common between November and March. Juvenile and female sperm whales do not migrate, staying here 12 months a year. Mature male sperm whales however do migrate to and from polar regions to Dominica - and they come here specially to mate.
Sperm whales are the largest predator on earth, reaching up to 70 feet/21 meters long, and weighing 60 tons. They are bright as well and have the largest brain in the animal kingdom. Perhaps most notable - and incredible to witness - is their ability to take a deep dive. When breaching, they can dive more than 6,000 feet/2,000 m deep to hunt in the dark with echolocation for their favorite and abundant food source - large and giant squid. What is equally amazing is that they can stay down there for close to an hour!
Click here to download a Sperm Whale Factsheet.
Our whale watching operation follows very strict codes of conduct, which minimized any disturbance. The crew will follow the International Fund for Animal Welfare Code of Conduct when operating this tour. We never lure or bait the whales toward our boats.
Just a short boat ride from Dive Dominica generally brings you into contact with the world's largest toothed animal in the calm turquoise Caribbean Sea. We listen for the 'clicking' of sperm whales and the 'whistling' of dolphins on our directional hydrophones to locate cetacean activity.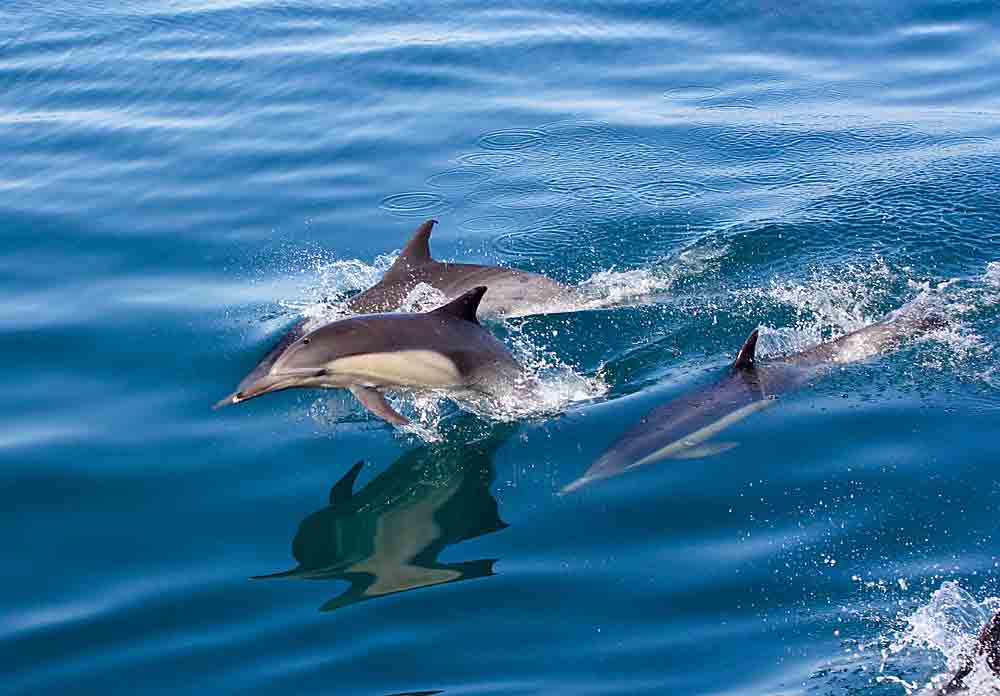 On the rare occasion we go out and whales or some species are not sighted, you're sure to be treated to the antics of huge pods of dolphins leaping out of the water and swimming alongside boat. Spinner Dolphin, Spotted Dolphin, Fraser Dolphin and Bottlenose Dolphin are all regular residents of our waters.
To Prepare: If you are prone to seasickness, please take the necessary precautions. This tour is not suitable for children under the age of 4. Passengers are advised to take a camera, binoculars and plenty of sun protection. Passengers must be able to negotiate the large step onto and off the boat.
To find out more about how you can get involved and help promote the protection and study of these magical creatures, please visit any of these resources: